Best Sewer Jetting Services Lakeland, FL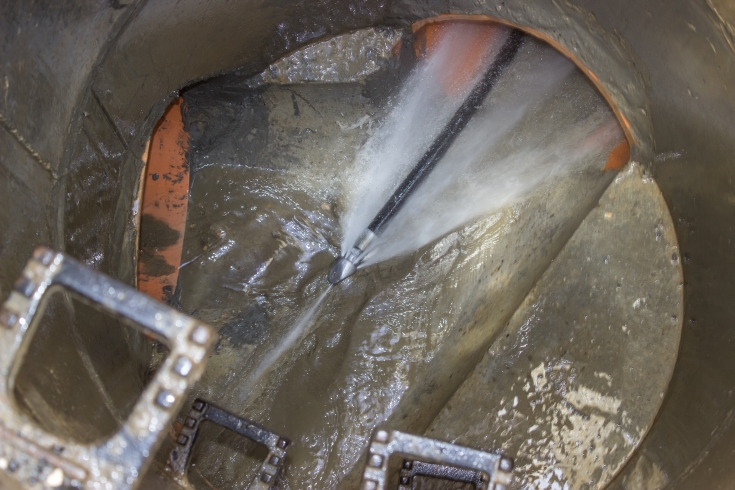 The drain and sewer experts at Richard Fox Plumbing, offer Sewer Hydro Jetting Services for your drain and sewer lines in Lakeland, FL. This method gets rid of clogs and blasts away residue that is stuck on to the pipes. Allow us to take care of your drainage problems using high-pressure jetting to clear away drain and sewer obstructions completely. We will inspect your pipes carefully with our expert Hydrojet Service and make sure that your pipes are clean and clear. Get in touch with us for your Sewer Jetting Services in Lakeland, FL.
How Sewer Jetting Works
Sewer Jetting in Lakeland, FL involves the use of a long, thin, flexible hose. This hose is fed into the drains and turned on so that it blasts out water under very high pressure. The nozzle emits water at 360 degrees, so every portion of the drain pipe is covered. The pressure of the water is powerful enough to force debris away from the pipe (without causing any damage) and move it into the sewer or septic tank. This type of high-pressure jetting is one of the most effective ways to clear your pipes of some of the largest obstructions, as well as the pesky stuck-on "sludge" that often clings to the lining of the pipes.
Choose Hydro Jet Services for Drain and Sewer Maintenance
High Pressure Hydro Jetting is not only useful for clog removal. You can also schedule Hydro Jet Services if you want to prevent drain clogs from occurring in the future. As grease and other residue sticks to the inside of your pipes, it attracts additional debris, which builds up and eventually forms a major clog. High Pressure Jetting forces the debris and the residue away from the pipes, so that you may not have to deal with any clogs any time in the near future. Get your pipes cleaned by the professionals. Contact Us Today!
Choose the #1 Sewer Jetting Services Plumber in Lakeland, FL
We have been the Sewer Jetting Service of choice in the Lakeland and surrounding areas for decades. There are clear reasons why our clients continue to choose us time and again for their Professional Sewer Jetting Services. We have established a reputation of excellence that includes our vast experience, comprehensive customer service, agreeable flexibility, and a loyalty to our community. Here are some of the benefits that you'll be able to enjoy when you work with us for your Sewer Jetting Services.
Experience
If you have a plumbing issue in your home or business, it's best to contact the most experienced Plumbing Company in Lakeland, FL that you can find. An experienced company will be able to quickly diagnose and fix the problems whereas an inexperienced plumber might take longer, allowing for more plumbing problmes to accumulate within your property. This could cause thousands of dollars in damage over the years. To save money and time contact us, the Best Sewer Jetting Services Company in the Lakeland area.
Customer Service
When you contact Richard Fox plumbing to inquire about your Sewer Jetting needs, we will be professional and courteous on the phone. In addition, we will always return your call. We know that It can be difficult to work with contractors sometimes, and we aim to reverse that sentiment. Our clients have let us know throughout the years that we are one of the easiest, Best Plumbing Contractors that they have ever had the pleasure of working with.